What's better than books?  Book aesthetics.  Ladies and gentlemen, book nerds of all the lands, may the covers of all your book desires of winter 2018 finally be revealed for your viewing pleasure!  This list entails every young adult book HarperCollins is publishing for the season made for reading. Get ready to Instagram the heart and soul out of all these books because they are to die for.
We suggest you just scroll down and let all of the beautiful book covers soak in and don't worry about adding all the Goodreads links right now because there's a list at the end of this post that will take you to the full list of all of these books on Goodreads so you can add them in one go!  If you end up adding every single one of them to your Goodreads list, it's okay.
Epic Reads Cover Reveals: Winter 2018
 These have been listed by order on sale date. Please note that sometimes covers can change before on sale date and many books publishing in Winter 2018 are not listed here because their covers are still being designed!
Love and Other Train Wrecks by Leah Konen
Design: Katie Fitch
Art: Helen Crawford-White
About Love and Other Train Wrecks:
One train ride. Two strangers.  Noah is a hopeless romantic. He's heading back home for one last chance with his first love whom he broke up with when he went off to college.  Ammy doesn't believe in true love—her parents being prime examples. She is escaping a mom who can't take care of her, for a dad who may not even want her.     That is until one winter night when Noah and Amy find themselves in the same Amtrak car heading to upstate New York. After a train wreck first encounter between the two of them, the Amtrak suddenly breaks down due to a snow storm. Desperate to make it to their destinations, Noah and Amy have no other option but to travel together.  What starts off as a minor detour turns into the whirlwind journey of a lifetime and over the course of the night they fall in love. But come morning their adventure takes an unexpected turn for the worst. Can one night can really change how they feel about love…and the course of their lives forever?
Hamilton and Peggy! By L.M. Elliott
Art and design by Sarah Pierson
About Hamilton and Peggy!:
Revolutionary. Friend. Lover. Sister.
 Peggy Schuyler has always felt like she's existed in the shadows of her beloved sisters: the fiery, intelligent Angelica and beautiful, sweet Eliza. The three of them have a magnetic pull-they are stronger together than they are alone. But it's in the throes of a chaotic war that Peggy finds herself a central figure amid Loyalists and Patriots, spies and traitors, friends and family. Charming, quick-witted, and clever beyond compare, Peggy is determined to use her talents to make her own mark on the Revolutionary War.
 When a flirtatious aide-de-camp, Alexander Hamilton, writes an eloquent letter to Peggy asking for her help in wooing the earnest Eliza, Peggy finds herself unable to deny such an impassioned plea. A fast friendship forms between the two, but Alexander is caught in the same war as her father, General Philip Schuyler, and the danger to all their lives is real. Everything is a battlefield—from the frontlines to their carefully coded letters—and Peggy must put herself in harm's way to protect the people she loves. But will her bravery and intelligence be enough to keep them all safe?
 Drawing from actual events, journals, and letters among the Schuyler family, Hamilton, George Washington, and other Patriots, New York Times best-selling author L. M. Elliott takes us straight into the lives of this extraordinary American family.
Together at Midnight by Jennifer Castle
Art: Beatrix Boros
Design and Hand lettering: Heather Daugherty
About Together at Midnight:
What does it really mean to be kind . . . and why does it sometimes feel like the hardest thing in the world to do?  High school senior Kendall, who just returned from a life-changing semester in Europe, and Max, who is drifting his way through a gap year before college, struggle with these questions when they witness a tragic accident in New York City during the holiday season. Racked with guilt, the two accept a dare to perform meaningful acts of kindness for strangers. The challenge pulls these two teens, who have a history together from back home, closer and closer as they explore the vibrant city that's filled with other people's stories and secrets.  Kendall and Max can't deny their growing bond, even though they both have other romantic entanglements and uncertain futures. As the clock counts down on New Year's Eve, will they find themselves together at midnight?    Jennifer Castle's latest novel is a romantic, thought-provoking tale of human connection and how we find—and make—our places in the world.
Everless by Sara Holland
Design: Jenna Stempel
Art: Billelis
About Everless:
In the land of Sempera, time is extracted from blood and used as payment.  The rich, like the Gerling family, can tax decades off of their poor subjects' lives.  No one resents the Gerlings for this more than Jules Ember. Jules and her father were once servants at the Gerlings' estate, Everless, but were cast out after a fateful accident a decade ago.  But when her father reaches his last hour, Jules will do anything to save him.      Desperate to earn time, she arrives at the palace as it prepares for the wedding between Roan, the youngest Gerling lord and Jules' childhood love, and the daughter of the Queen.  Jules is desperate to uncover secrets involving stories from her childhood that she once believed to be no more than myths.  She spirals deeper into a past she hardly recognizes, and faces an ancient and dangerous foe who threatens her future and the future of time itself.
Truly Devious by Maureen Johnson
On Sale: January 16, 2018
Design: Katie Fitch
Art: Leo Nickolls
About Truly Devious:
Ellingham Academy is the famous private school in Vermont for the brightest thinkers, inventors, and artists. It was founded in 1936 by a tycoon who wanted to make a wonderful place full or riddles, twisting pathways, and gardens. "A place," he said, "where learning is a game." Shortly after the school opened, his wife and daughter were kidnapped. The only real clue was a mocking riddle listing methods of murder, signed with the frightening pseudonym "Truly, Devious." It became one of the greatest unsolved crimes in history, a story of murder and mystery, one without a real conclusion—little Alice was never found.
True crime aficionado Stevie Bell is set to begin her first year at Ellingham Academy, and she has an ambitious plan: She will solve this eighty-one year-old cold case. That is, she will solve the case when she gets a grip on her demanding new school life and her housemates: the inventor, the novelist, the actor, the artist, and the jokester. But something strange is happening. Truly Devious makes a surprise return, and death revisits Ellingham Academy. The past has crawled out of its grave. Someone has gotten away with murder.
Purple Hearts by Michael Grant
On Sale: January 30, 2018

Design: Joel Tippie
Art: Matt Murphy
About Purple Hearts :
1944, World War II.  Courage, sacrifice, and fear have lead Rio, Frangie, and Rainy through the front line battles in North Africa and Sicily, and their missions are not over. These soldiers and millions of Allies must fight their deadliest battle yet—for their country and their lives—as they descend into the freezing water and onto the treacherous sands of Omaha Beach. It is June 6, 1944. D-Day has arrived.  None of these women are the same naïve recruits they were when the war started. They are Silver Star recipients and battle-hardened now as they traverse the dangerous Bocage country and find their way through the forests of Hürtgen and the Eifel. Others look to them for guidance and confidence, but this is a war that will leave 60 million dead. Flesh will turn to charcoal. Piles will be made of torn limbs. The women must find a way to lead through the devastating concentration camps of Buchenwald and Dachau while holding onto their own last shreds of belief in humanity.  In this powerful conclusion to the Front Lines series, New York Times bestselling author Michael Grant vividly evokes the gritty, brutal truth of World War II: war is hell.
The Queen's Rising by Rebecca Ross
On Sale: February 6, 2018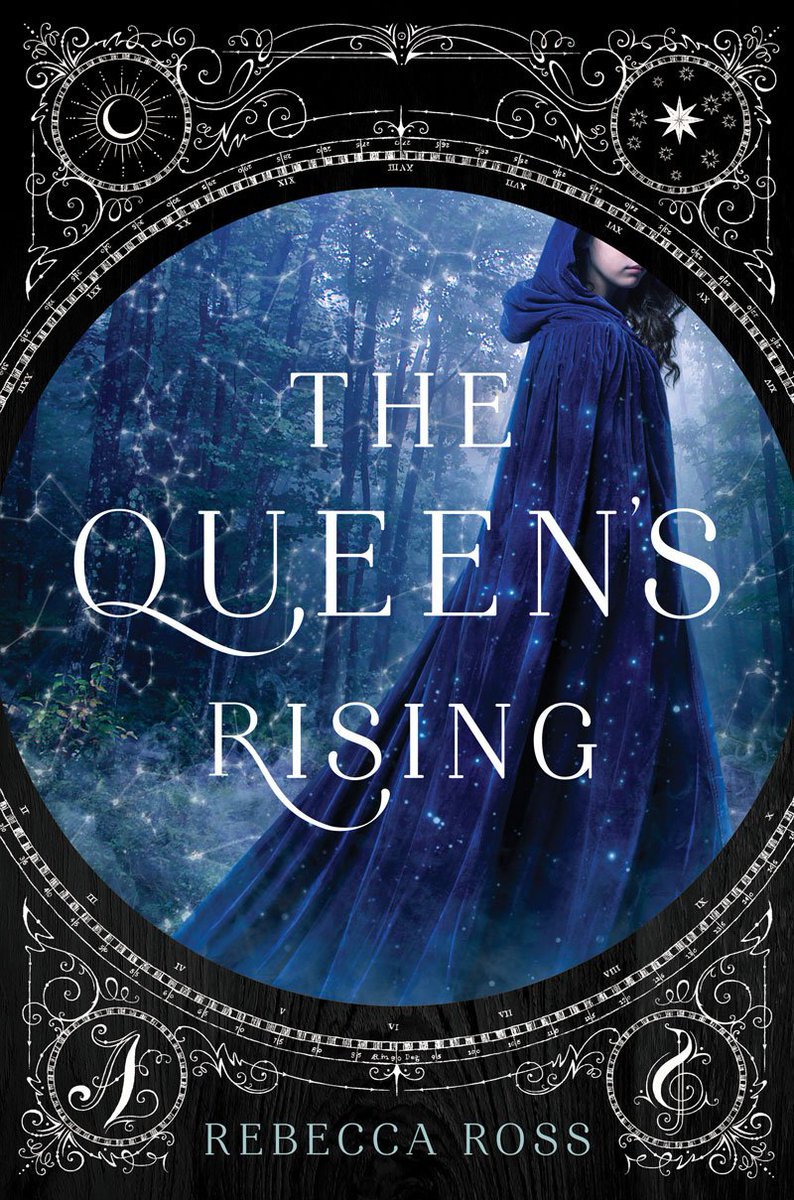 Image: Jonathan Barkat
Illustration: Virginia Allyn
Design: Aurora Parlagreco
About the Queen's Rising:
Born out of wedlock, Brienna was cast off by her noble family and sent to Magnalia House–a boarding house for those looking to study the passions–art, music, dramatics, wit, and knowledge. There, she has been tutored by the great (and handsome) Cartier in the hopes of becoming one of the impassioned–the elite masters who specialize in one of these subjects. Now Brienna faces the test that she must pass in order to attract the support of a patron.  But on the eve of her evaluation, Brienna has a startling revelation–she is capable of recalling the memories of her ancestors. And one of these memories may hold the answer to a mystery from the past–one that may have very real consequences for the northern land of Maevana. Maevana has been ruled by a usurper king, and when the disgraced northern lord Alderic Jourdain finds out about Brienna's memories, he realizes she may be the key to his plot to overthrow the king and restore the rightful monarchy. Brienna accepts Jourdain's patronage, but quickly realizes that his plan to reclaim the north may have consequences that she never imagined.
When My Heart Joins the Thousand by AJ Steiger
On Sale: February 6, 2018

Design/illustration: Philip Pascuzzo
About My Heart Joins The Thousand:
Alvie Fitz was the only child of a well-meaning but emotionally unstable single mother, who died ten years ago in a tragic accident. After some less-than-successful years in foster care Alvie has now been authorized to live independently, pending a court review that will determine if her arrangement can be made permanent.  With her job at the zoo, she is financially independent, but otherwise her life mostly consists of the National Geographic channel, and quality time with her laptop researching esoteric things like quantum physics. Alvie's court hearing is approaching and her social worker has concerns: Alvie has no friends; she is about as isolated from society as it's possible for a city dweller to be. Alvie, desperate to prove she's "functional" so as not to re-enter the foster system, tackles the issue with her usual pragmatism—she locks in one sole online "friend". But he turns out to be a small miracle of a person, and thus ensues a (frequently awkward and tender and hilarious) meeting that soon morphs into something much bigger.  The challenges are many—as if falling in love isn't a challenge enough for anyone—and as the plot progresses, hidden obstacles surface. Both Alvie and Stanley are carrying some pretty big and damaging secrets—Alvie's, about her past, and Stanley's, about his present. When the floodgates shudder open, the impact might take them both down with it.
Winterfolk by Janel Kolby
On Sale: February 6, 2018

Art: Matt Saunders
Design: Sarah Nichole Kaufman
About Winterfolk:
Rain collects fallen stars to protect the wishes they hold until they can come true, placing them around the tent where she lives with her dad. For almost as long as she can remember, their home has been in the woods near the Winterfolk, a group of homeless people. Rain has grown up in these woods, learning how to be invisible, and she's never ventured far from the shelter of the trees.  But when Rain learns that the city of Seattle is planning a sweep to clear out the homeless people living in the woods, her world is shattered. She finds herself ripped from her home and lost in Seattle, full of strange sights, sounds, people-and memories. If Rain is going to save herself, her father, and her friends, she must face the dangers of the city, and figure out how to find a star big enough to make all of her wishes come true.
Heart of Iron by Ashley Poston
On Sale: February 13, 2018

Art: John Taylor Dismukes
Design: Sarah Nichole Kaufman
About Heart Of Iron:
Seventeen-year-old Ana is a scoundrel by nature and a criminal by nurture. Found as a child in the wreckage of a spaceship with only a sentient android called D09 surviving with her, Ana has spent all the life she remembers with the fearsome space captain and grizzled crew she now calls family. But D09—one of the last remaining illegal Metals—has been glitching, and without a specialized piece of tech, he'll be gone for good.     When Ana finds information about the tech that will save D09, she's beat out at the last moment by a spoiled noble boy, Robb Valerio, who wants the tech's coordinates and doesn't care what it will lose him. The only way to get the coordinates is to find the boy—by infiltrating a dangerous party of their world's elite. But when everything goes wrong, Robb ends up escaping with them, and saving their lives. Now, the whole galaxy is after them—and not all of them will make it out alive.  What they find at the lost corners of the universe will change all of their lives—and unearth plenty of secrets from the past. And when a dark conspiracy is revealed—Ana, D09, Robb, and their friends will have to do whatever it takes to protect themselves, and save their kingdom, before it's too late.  Inspired by the story of Anastasia, Heart of Iron is a rip-roaring adventure story full of thrilling action, dangerous politics, and deadly choices.
The Traitor Prince by C.J. Redwine
On Sale: February 13, 2018

Art: Sean Freeman
Design: Sarah Nichole Kaufman
About The Traitor Prince:
Javan Najafai, the crown prince of Akram, has spent the last ten years at school, far away from his kingdom. He's been eagerly awaiting his return home to his ailing father, but his journey there goes dangerously wrong. A mysterious imposter has taken his place—and no one will believe Javan is the true prince.  After barely escaping the imposter's hitmen, Javan is thrown in the most dangerous prison in his kingdom—Maqbara. The only way to gain an audience with the king and reveal the truth is to fight his way out in the prison's yearly tournament, which pits inmates against a coterie of the deadliest creatures in the world.  The only person who can help him is Sajda, a strong and secretive girl who has been enslaved by Maqbara's warden since she was a child. Working with Sajda might be the only way Javan can escape alive—but she's hiding something. Together, Javan and Sajda will have to outwit the dangerous warden, outfight the hundreds of deadly creatures, and outlast the murderous prisoners intent on killing Javan before he can win—in order to fight for their freedom, and take down the imposter once and for all.
Active Memory by Dan Wells
On Sale: February 13, 2018

Photography: Michael Frost
Digital Rendering: Sebastien Hue
Design: Michelle Taormina
About Active Memory:
With the help of her crew of teen hackers, Marisa Carneseca finally learns the secrets of her past while fleeing from a ghost, matching wits with a corporate commando, and scrambling to retrieve a gangster's missing digital brain.
Voices in the Air: Poems for Listeners by Naomi Shihab Nye
On Sale: February 13, 2018
About Voices In The Air:
"I think the air is full of voices. If we slow down and practice listening, we hear those voices better. They live on in us. Inspiration? We need it every day. We deserve it. It is essential, like food, water, clean air, shelter. Here are some poems celebrating the voices that have changed my life and continue to do so."—Naomi Shihab Nye
Award-winning poet and author Naomi Shihab Nye has written more than 100 poems inspired by the artists, writers, poets, historical figures, politicians, ordinary people, and other diverse luminaries from past and present who inspire us, give us solace, and create hope.
Featuring black-and-white spot art throughout, as well as brief bios of the "voices," an index, and an introduction by the author.
Break Us by Jennifer Brown
On Sale: February 13, 2018

Design: Joel Tippie
About Break Us:
Nikki Kill doesn't see the world in black and white. Her synesthesia colors everything in view, transforming objects and numbers into emotions and clues.  Which means she's a dangerous commodity to anyone with something to hide.  Nikki has already taken down the Hollises—one of LA's most powerful families—for murdering her half-sister Peyton. Now she's training to join the ranks of the police academy.  Still Nikki's promising future is languishing behind a cloud of gray uncertainty. After recovering from a hit and run, her mentor Detective Chris Martinez doesn't remember their first kiss, and pieces of her troubled past are suddenly coming together as she investigates the incident.  Before she knows it, Nikki is on the trail of a cold case that couldn't be any more personal-the death of her mother. But when the web of lies and secrets she uncovers leads back to the people who have tried to silence her, Nikki must pursue the blue tint of justice or everything—including her life—will be lost.  Jennifer Brown's last book in the Nikki Kill series is a nail-biting, not to be missed finale that will leave readers breathless.
Honor Among Thieves by Rachel Caine & Ann Aguirre
On Sale: February 13, 2018

Art: Jeff Huang
Design: Aurora Parlagreco
About Honor Among Thieves:
Zara Cole has been in and out of New Detroit's rehab facilities for treatment of her antisocial disorder. There's no adjusting Zara's attitude, though. A painful past has made her stronger than most, which is why she chose life in the Zone instead moving with her family to Mars. In her eyes, living inside a dome isn't much better than a prison cell.  Still, when Zara commits a crime that has her running scared, jail might be exactly where she's headed. Instead Zara is recruited into the Honors, an elite team of humans selected by the Leviathan–a race of sentient alien ships—to explore the outer reaches of the universe as their passengers.  Zara seizes the chance to flee Earth's dangers, but when she meets Nadim, the alien ship she's assigned to along with fellow Honor Beatriz, Zara starts to feel at home for the first time, along with a devotion she's never experienced before. Yet nothing—not her Honors training or her street smarts—could have prepared her for the dark, ominous truths that lurk behind the alluring glitter of starlight.    Honor Among Thieves is the first book in a daring new sci-fi series by bestselling authors Rachel Caine and Ann Aguirre.
Hooper by Geoff Herback
On Sale: February 20, 2018
About Hooper:
Basketball is a passport. For Adam Reed, this means basketball can take him anywhere. Before basketball, Adam moved from Poland to the United States. Before basketball, Adam's mom died, and his father left him. His adopted mom, Renata, brought him to Minnesota, where his only friend is Barry Roland, who loves Taekwondo, and where Kase Kinshaw calls him "The Refugee." Adam does not like to talk about his life before basketball. It gives him nightmares, an inky blackness chasing him in his dreams. And he has too much anger inside that can make him hurt people. But basketball is Adam's passport to a good life. On the court is where he finds happiness. He is home. Because of basketball, he meets Carli Anderson, who smells like honey and who shoots a basketball with feathery fingertips. And because he is good at basketball—really good—Adam is invited to join a select AAU team, with all-stars like Devin Mitchell and Khalil Williams. This changes everything, and Adam begins to find what he's always wanted: a family. Basketball is more than a passport. This great new life, though, is more complicated. And like so many times before, Adam sees how easy it is to lose what you love. When an off-court incident threatens Adam's basketball career—and his new family—he must decide what matters to him most.
The Tombs by Deborah Schaumberg
On Sale: February 20, 2018

Design: Jenna Stempel
Art: Si Scott
About The Tombs:
There is no place in Avery Kohl's New York for a girl with mysterious powers.  Avery knows this fact all too well—she remembers when the men in crow masks came for her mother all those years ago; she remembers when they locked her in an asylum for being able to see what others couldn't. So Avery denies the signs of developing power in herself, choosing to focus on getting through her shifts at the ironworks factory and keeping her bereaved, inventor father out of trouble. She's content to keep her head down in Brooklyn, hearing secondhand tales of adventure and rebellion from her best friend Khan, an ex-slave with a penchant for being in the wrong place at the wrong time.    But Avery's powers, just like her mother's, refuse to be contained. And when she causes an unexplainable explosion at the factory, she has no choice but to run from her lies, straight into the gypsy gang of mystics hiding in dark corners all across the city.     In order to free herself from persecution, Avery must embrace her abilities and learn to wield them with the full extent of their power.  If she fails, she will not only join her mother in the Tombs—she'll doom Khan and an entire hidden community to death.     Deborah Schaumberg's gritty debut takes readers on a breathless trip across a teeming turn of the century New York City in upheaval, from the shipyards of Brooklyn to the gypsy camps outside the city to the seediest corners of the Lower East Side, and asks the question: can you ever truly hide in a city that wants you buried?
This Tiny Perfect World by Lauren Gibaldi
On Sale: February 27, 2018

Illustration: Dimitry Pogolrev
Design: Michelle Taormina
About The Tiny Perfect World:
Penny has her future mapped out. Go to community college to stay close to home and her best friend. Take over the family diner that her dad has been managing since her mother's death. Get married to the boy she loves—her high school sweetheart.  But then she wins a scholarship to attend a prestigious theater summer camp before her senior year. There, she meets new friends, including Chase, a talented young actor with big-city dreams. He makes her questions everything she thought she wanted and realize that the life everyone expects her to lead may not be the one she was meant to have.
Where I Live by Brenda Rufener
On Sale: February 27, 2018

Art: David Curtis
Design: Joel Tippie
About Where I Live:
Linden Rose lives with a big secret: she's homeless and secretly living in the halls of her high school. No one can know her secret. If any adults uncovered the truth, they'd get the authorities involved and derail everything she's worked for. All she wants is to make it through high school and get into college to fulfill her dreams of becoming a journalist.     Her position as editor of the school's blog, her best friends Ham and Seung, and the promise of a future far away are what keeps Linden under the radar and moving forward. The three outsiders have created a makeshift family and their jokes and solidarity have become home for Linden. But when cool-girl Bea comes to school with a bloody lip, it hits closer to home than Linden would like to admit. Linden starts looking more closely at Bea's relationship with her boyfriend, and soon her investigation causes people to pay more attention to Linden's own history. And attention is the last thing she needs.  Linden knows the only way to put a stop to the violence is to tell the story. Even if that means breaking her rules and jeopardizing the secrets she's worked so hard to keep.
Inkmistress by Audrey Coulthurst

Illustration: Jacob Eisinger
Design: Michelle Taormina
About Inkmistress:
Asra is demigod with a dangerous gift: the ability to dictate the future by writing in her blood. To keep her power secret, she leads a quiet life as a healer on a remote mountain, content to help the people in her care and spend time with Ina, the mortal girl she loves.  But Asra's peaceful life is upended when bandits threaten Ina's village and the king does nothing to help. Desperate to protect her people, Ina begs Asra for assistance finding her manifest—the animal she'll be able to change into as her rite of passage to adulthood. Asra uses her blood magic to help Ina, but her spell goes horribly wrong and the bandits destroy the village, killing Ina's family.  Unaware that Asra is at fault, Ina swears revenge on the king and takes a savage dragon as her manifest. To stop her, Asra must embark on a journey across the kingdom to stop her, becoming a player in lethal games of power among assassins, gods, and even the king himself. Most frightening of all, she discovers the dark secrets of her own mysterious history—and the terrible, powerful legacy she carries in her blood.
The Case for Jamie by Brittany Cavallaro

Design: Katie Fitch
Art: Dan Funderburgh
About The Case For Jamie:
It's been a year since the shocking death of August Moriarty, and Jamie and Charlotte haven't spoken. Jamie is going through the motions at Sherringford, trying to finish his senior year without incident, with a nice girlfriend he can't seem to fall for. Until strange things start happening to him. Strange things that might mean nothing at all—or that someone is after him again. Charlotte is on the run, from Lucien Moriarty and from her own mistakes. No one has seen her since that fateful night on the lawn in Sussex. Charlotte wants it that way. She knows she isn't safe to be around. She knows that her Watson can't forgive her.  Holmes and Watson may not be looking to reconcile, but there is someone who wants the team back together. Someone who has been quietly observing them both. Making plans. Biding their time. Someone who wants to see one of them suffer and the other one dead. In this explosive third book in the Charlotte Holmes series, Holmes and Watson face the ultimate test: they must unravel the case of their lives without unraveling each other.
The Final Six by Alexandra Monir

Art: Colin Anderson
Design by Heather Daugherty
About The Final Six:
When Leo, an Italian championship swimmer, and Naomi, a science genius from California, are two of the twenty-four teenagers drafted into the International Space Training Camp, their lives are forever changed. Overnight, they become global celebrities in competition for one of the six slots to travel to Europa—Jupiter's moon—and build a new home for humankind. After countless floods, earthquakes, and erratic climate change, Earth has become a deadly place to live. The fate of the population rests on the shoulders of the final six who will be scouting the new territory.    For Leo, the last surviving member of his family who were killed in a tidal wave, the purpose of the mission is a reason to go on. Naomi, however, is suspicious of the ISTC and the fact that their previous mission, the Athena, failed under mysterious circumstances, killing everyone onboard. As the ISTC gets more and more secretive, Naomi's fear grows over what could be awaiting the final six on Europa.  In this competitive atmosphere, surrounded by strangers from around the world who would stop at nothing to make it to the final six, Naomi finds an unexpected friend in Leo. As the training tests their limits, Naomi and Leo's relationship deepens with each mind-boggling experience they encounter. But it's only when the finalists become fewer and their destinies grow nearer that the two can fathom the full weight of everything at stake: the world, the stars, and their lives.
Class: What She Does Next Will Astound You by Patrick Ness
About Class: What She Does Next Will Astound You
"There's no such thing as oversharing"…right?  Everyone at Coal Hill School has become obsessed with completing exciting dares posted on a strange new website, run by the charismatic vlogger Seraphin. Soon the challenges become more dangerous and competitive, yet even broken arms and fistfights don't stop the craze for them. And then students start to disappear…  As April's fragile group of friends starts to fracture, she decides she's going to uncover the truth behind this site herself. Whatever it takes, whomever she hurts, April's going to win. But then, to her horror, she wakes up and finds her whole world is changed.  What she does next will astound you.
The Midnights by Sarah Nicole Smetana

Art: Mia Nolting
About The Midnights:
Susannah Hayes' life has been a mix of dreams and disappointments. Dreams of writing the perfect guitar riff that will impress her enigmatic former rock-star father and disappointments as she fails again and again to close the distance between them. When he dies unexpectedly, she suddenly finds she's without those things that always defined her.  While Susannah struggles with grief, her mother decides to move them to a new town. There, Susannah realizes she can become whoever she wants to be: A confident singer-songwriter in a hot band with an effortlessly cool best friend. But you can't outrun your past forever and soon Susannah finds everything crumbling around her once again.  Set against the scintillating landscape of Southern California, debut novel The Midnights is a coming-of-age story of loss, creativity, and finding your voice when you're still finding yourself.
The Poet X by Elizabeth Acevedo

Design: Erin Fitzsimmons
Art: Gabriel Moreno
Xiomara Batista feels unheard and unable to hide in her Harlem neighborhood. Ever since her body grew into curves, she has learned to let her fists and her fierceness do the talking.
But Xiomara has plenty she wants to say, and she pours all her frustration and passion onto the pages of a leather notebook, reciting the words to herself like prayers-especially after she catches feelings for a boy in her bio class named Aman, who her family can never know about. With Mami's determination to force her daughter to obey the laws of the church, Xiomara understands that her thoughts are best kept to herself.
When she is invited to join her school's slam poetry club, she knows that she could never get around her mami's rules to attend, much less speak her words out loud. But still, she can't stop thinking about performing her poems.
Because in the face of a world that may not want to hear her, Xiomara refuses to be silent.
Here, So Far Away by Hadley Dyer

Hand lettering: Marla Moore
Jacket Design: Heather Daugherty
About Here So Far Away:
For tough girl George Warren (real name: Frances, but nobody calls her that), senior year was supposed to be about partying with her tight-knit group of friends and piecing together scholarships and financial aid so she can move away from her stifling small town.  Unfortunately, life's a bad writer, and her senior year is anything but what she imagined. It's the year an injury puts George's father out of work, causing the family to fall on hard times. It's the year a huge fight with her best friend causes an irreparable rift in George's social circle. It's the year George realizes her dreams of going away to college might now be out of reach.    But it's also the year that George meets Francis, an older guy who shares her name, talent for sarcastic bantering, and interest in poetry. In him, George—the queen of catch-and-release—finally finds someone she wants to hold onto. She tells no one and falls hard and recklessly in love. And in doing so, George nearly loses everything—herself included—in secret, and completely alone.
Dread Nation by Justina Ireland

Art Director: Alison Donalty
Photograph: Gustavo Marx/MergeLeft Reps.
Design: David Curtis
Jane McKeene was born two days before the dead began to walk the battlefields of Gettysburg, Pennsylvania-derailing the War Between the States and changing the nation forever. In this new America, safety for all depends on the work of a few, and laws like the Negro Education Act require Black children attend combat schools to learn to put down the dead. But there are also opportunities, and Jane is studying to become an Attendant, trained in both weaponry and etiquette to protect the well-to-do. It's a chance for a better life for Black girls like Jane. After all, not even being the daughter of a wealthy white Southern woman could save her from society's expectations.    But that's not a life Jane wants. Almost finished with her education at Miss Preston's School of Combat in Baltimore, Jane is set on returning to her Kentucky home, and doesn't pay much mind to the politics of the eastern cities, with their talk of returning America to the glory of its days before the dead rose.  But when families around Baltimore County begin to go missing, Jane is caught in the middle of a conspiracy, one that finds her in a desperate fight for her life against some powerful enemies. And the restless dead, it would seem, are the least of her problems.    At once provocative, terrifying, and darkly subversive, DREAD NATION is Justina Ireland's stunning vision of an America both foreign and familiar—a country on the brink, at the explosive crossroads where race, humanity, and survival meet.
Losers Bracket by Chris Crutcher
About Loser's Bracket
When it comes to family, Annie is in the losers bracket. Don't get her wrong, her foster parents are great, even if Pop is a little too concerned about Annie getting an athletic scholarship. But Nancy, her birth mom, and her sister, Sheila, are . . . less than ideal. And no matter how hard Annie tries to stay away from them, she always gets sucked back in to their lives and their messes. She tells herself she's doing it for Sheila's son, Frankie, but she knows her issues with her birth family are more deeply rooted.  Then a family argument at one of Annie's swim meets escalates and Frankie goes missing. Annie can't help but think that Frankie's disappearance is her fault. With help from her new boyfriend, Tim, and her social service worker, Annie searches desperately for her missing nephew, determined to find him and finally get him in a safe home.  Annie's story is quintessential Crutcher, by turns gripping, heartbreaking, hopeful, and unflinchingly honest, and will appeal to readers of Matt de la Peña and Andrew Smith.
Infamous by Alyson Noël

Design: Erin Fitzsimmons
Photograph: Noël Alvarenga
About Infamous:
Everyone loves to be remembered.  Layla Harrison never imagined she'd see the inside of a jail cell, but sometimes fate can be as nasty as a commenter on her celebrity gossip blog. Luckily, she wasn't alone—fellow promoters Aster Amirpour and Tommy Phillips were also detained when Hollywood It-Girl Madison Brooks' dead body turned up at an Unrivaled nightclub.  But it wasn't Madison at all. The real Madison Brooks is alive and hiding out after escaping a kidnapping attempt that almost took her life.  Once the police discover they've made a mistake, Layla, Tommy and Aster are set free—only to discover that they're all being played. Layla learns someone hacked her blog and posted the draft she'd written revealing Madison's diary entry. Tommy is sent stills from the surveillance video showing him outside of Night for Night at the time Madison went missing. And Aster receives another copy of the embarrassing DVD of her sexy photos that were taken at Madison's house.   However none of their dirty little secrets compares to the one Madison has been keeping her entire life, and her past is dangerously close to being revealed. Which means Madison must come out from behind the shadows to ensure that she doesn't lose everything she's worked for, regardless of who might get caught in the crossfire.  Impossible to put down and satisfying to the bitter end, INFAMOUS is the last book in Alyson Noel's provocative Beautiful Idols series.
Devils Unto Dust by Emma Berquist
About Devils Unto Dust:
Ten years ago, a horrifying disease began spreading across the West Texas desert. Infected people, called shakes, attack the living, creating havoc and destruction. Anyone bitten by a shake has a week, at most, before they lose control. No one has ever survived.  Daisy Wilcox, known as Willie, and her siblings live in relative safety within the heavily guarded walls of Glory, Texas. With their mother dead and their drunken father absent, they scrape together a living selling snakeskins and doing odd jobs. But when Willie's father steals $400 from one of the most dangerous shake hunters in town, Willie finds herself on the hook for her father's debt. She hires two hunters—including gruff and handsome Ben—to accompany her through the desert to find her father.  The way is fraught with danger, and when Willie's 14-year-old brother and his best friend appear, determined to tag along, Willie suddenly finds herself responsbile for their survival as well as her own.  But then Willie gets infected. And with her time quickly running out, she must do her best to protect her family before she loses herself.  Epic and exciting, Emma Berquist's debut novel is a riveting story about how far one young woman will go to defend the people she loves. For fans of The Magnificent Seven, Westworld, and Alwyn Hamilton's Rebel of the Sands.
Winter Glass by Lexa Hillyer

Design: Catherine San Juan
Art: Lisa Perrin
About Winter Glass:
Aurora, torn from both the dream world and Heath, plots to assassinate the faerie queen Malfleur, only to confront temptations she never expected.  Isabelle, meanwhile, opens her heart to Prince William as they attempt to unite their kingdoms and wage a winning war against Malfleur's army of Vultures.  But when the appearance of an unbreakable glass slipper prompts Isabelle to discover more about her lineage, her true identity begins to take shape and her legacy becomes as clear as ice.  Devoted half sisters Isabelle and Aurora will grapple with their understanding of love and loyalty as they face a threat even greater than that of the evil queen—the threat of losing each other forever.    Lexa Hillyer returns to a lush fantasy world in deep peril, concluding the dark and stunning reinvention of a fairy tale that began with Spindle Fire.
Beyond a Darkened Stone by Jessica Leake

Photo: Andreas Levers
Digital art: Sebastien Hue
Design: Michelle Taormina
About Beyond a Darkened Shore:
The ancient land of Éirinn is mired in war. Ciara, Princess of Mide, has never known a time when Éirinn's kingdoms were not battling for power, or Northmen were not plundering their shores.  The people of Mide have thankfully always been safe because of Ciara's unearthly ability to control her enemies' minds and actions. But lately, a mysterious crow has been appearing to Ciara, whispering warnings of an even darker threat. Although her clansmen dismiss her visions as pagan nonsense, Ciara fears this coming evil will destroy not just Éirinn, but the entire world.  Then the crow leads Ciara to Leif, a young Northman leader. Leif should be Ciara's enemy, but when Ciara discovers that he, too, shares her prophetic visions, she knows he's something more. Leif is mounting an impressive army, and with Ciara's strength in battle the two might have a chance to save their world.  With evil rising around them, they'll do what it takes to defend the land they love…even if it means making the greatest sacrifice of all.
Love, Life, and the List by Kasie West

Photography: Michael Frost
Design and hand lettering: Michelle Taormina
About Love, Life, and The List:
There are plenty of things that Abby isn't great at, like dealing with her not-so-secret crush on her best friend Cooper, or managing her mother's growing issues with anxiety. But when it comes to painting she has always felt like she knows what she was doing-that is until she's rejected by an art show because her paintings "have no heart." So when she gets a second chance to show her work Abby decides she can't take any chances. With only a month to create new, exciting paintings, Abby knows drastic measures need to be taken.  Which is where the list comes in.   Abby decides to do ten things, ranging from #3 (face a fear) to #5 (learn a stranger's story) to #8 (fall in love), that she thinks will help her create paintings worthy of being shown. However, completing the list isn't as straightforward as it seems…after all, can Abby really change her art if she isn't first willing to change herself?
---
That's it for these the Harper Winter 2018 cover reveal list!
ADD ALL OF THESE BOOKS TO YOUR GOODREADS SHELF!  Click this link to see all of these books in one list on Goodreads!
More Cover Reveals Still To Come
Not all book covers get designed at the same time, and every once in awhile some covers need a little extra time. Below is a list of other Winter 2018 Harper books that have yet to be revealed! We will be adding the finished covers to this blog post as they come in so follow us on Twitter for the latest updates!
Restore Me by Tahereh Mafi
The Dangerous Art Of Blending In
Carve The Mark #2
A Conspiracy Of Stars
The Last Best Story
Stormcaster
Leah On The Offbeat
---
Which covers are your favorites? Tell us in the comments below!