Ah Valentine's Day. A day full of chocolates, kissing, and… blood. Wait, what? We're talking young adult literature here, so things are likely to get a little more violent than on your average Valentine's Day. Just because the days they aren't written, doesn't mean we can't dream up romance for our favorite ships! These characters deserve some happiness, dang it! Below are some couples and how we think they'd be spending the holiday!
The Couple: Simon and Blue
The Book: Simon Vs. The Homo Sapiens Agenda by Becky Albertalli
The Date: We're not sure whether Simon or Blue would bribe their way into a tour of an Oreo making factory, but one of them would pull it off. Our money is on Blue. That would be followed up with a nighttime picnic under the stars. To which Simon would have curated a romanric playlist thumping in the background. Our hearts can't take the cuteness!
Fan art by: CherryAndSisters.tumblr.com
---
The Couple: Mare and Cal
The Book: Red Queen series by Victoria Aveyard
The Date: This one requires some wishful thinking, as the current situation for these characters is a wee bit too dire to think about celebrating the holiday. They would probably be content with just a few hours where Maven isn't trying to murder them! And if they could somehow get their hands on a box of chocolates, that would be good too.
Fan art by: OneDirectionsMofo
---
The Couple: Jacob and Emma
The Book: The Miss Peregrine's series by Ransom Riggs
The Date: The possibilities are endless for these two (even though Jacob doesn't necessarily seem like the most outwardly romantic guy)! They could go almost anywhere in the world! We're thinking maybe a café in Paris under the twinkling lights of the Eiffel Tower. Or dinner at the center of the abandoned Colosseum in Rome. What? No, we're not jealous at all! *eye twitches*
---
The Couple: Kaz and Inej
The Book: The Six of Crows duology by Leigh Bardugo
The Date: We use the term "couple" loosely here, as both of these Dregs have been too busy dealing with their personal demons to work on a relationship. As such, we're not sure their celebration would be much more thank a few seconds of holding hands during a mission to take down a new villain. And then those hands would promptly be used to kill people. We're still swooning, tbh.
Fanart: loweana.tumblr.com
---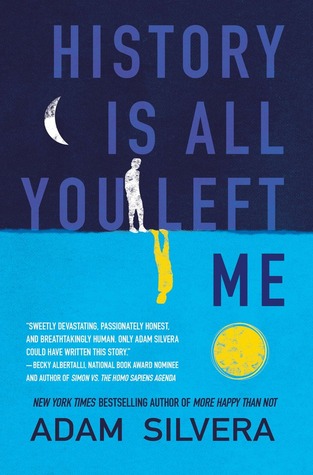 The Couple: Griffin and Theo
The Book: History Is All You Left Me by Adam Silvera
The Date: *holds in tears* We're going to have to take a trip into the past for this couple's Valentine's day. The date would start with them kicking some serious butt at a local trivia night. Then, it wouldn't be easy setting up a personal drive-in theater in NYC, but this duo could pull it off. The films? A double feature of Star Wars: The Phantom Menace and Harry Potter and the Sorcerer's Stone. Hey guys, can we third wheel please?
---
The Couple: Lyra and 72
The Book: Replica by Lauren Oliver
The Date: These two teens deserve many years' worth of Valentine's Day's in a single night. While that's technically not possible (Hermione, where's that Time-Turner at?) we're sure they'd settle for a go to quiet night at a candle-lit restaurant. Flowers, chocolates, a teddy bear, the whole shebang!
Fan art: celinedesoutter.tumblr.com
---
The Couple: Kate Harker and herself (sorry, August)
The Book: This Savage Song by Victoria Schwab
The Date: Kate's going to be spending the day alone, but that's not going to stop her from celebrating! After mocking all the couples wasting their money on a day invented by Hallmark, she'd treat herself with a manicure (to clean the blood off her hands), and a solo night in watching a marathon of classic horror movies.
---
The Couple: Queen Katherine and Pietyr
The Book: Three Dark Crowns by Kendare Blake
The Date: This couple has a serious passion and obsession with food. Granted, the food they prefer to eat is poisoned, but still, we think their Valentine's Day date will be some kind of really elaborate picnic. A candlelit picnic by the side of a giant cavern, perhaps, with wine and fruit and succulent roasted meats and cheese and now we're just getting really hungry thinking about this.
Art: Super Helpful Character Charts for the Three Dark Crowns Sisters
---
Comment down below with how you think your favorite couples would spend the holiday! And be sure to check out all the books mentioned above!
Up next: 7 YA Characters That Deserve Their Own Series
Save
Save
Save
Save
Save
Save
Save
Save
Save
Save
Save
Save
Save