It's a bittersweet feeling when a book ends, and as fantastic as it was, you're bummed that you'll never get to experience reading it for the first time again. But then, PLOT TWIST, the author comes to your rescue and announces you're getting another book in that world told from the perspective of a different character you loved! And then the only sadness you have is knowing you'll have to wait for that spinoff to hit shelves.
🚨 Oh, this seems like a good place to put a spoiler warning… 🚨
WELL, some are still to come, but you can dive into some of these now! With THE LADY'S GUIDE TO PETTICOATS AND PIRACY just being released, it seemed like the best time to think on which other spinoffs we're excited for. And that's what we're bringing you below!
Spinoffs you need on your TBRs
1. Felicity Montague
IN THE LADY'S GUIDE TO PETTICOATS AND PIRACY BY MACKENZI LEE
Felicity was an absolute standout in a novel full of spectacular characters with THE GENTLEMAN'S GUIDE TO VICE AND VIRTUE. The fact that she gets to take the lead on her own journey to becoming a doctor in the sequel, the seeds of which were planted in book one, is a fantastic follow up. And the adventure is just as hilarious, dangerous, and exciting as she continues to defy 18th century expectations.
A year after an accidentally whirlwind grand tour with her brother Monty, Felicity Montague has returned to England with two goals in mind—avoid the marriage proposal of a lovestruck suitor from Edinburgh and enroll in medical school. However, her intellect and passion will never be enough in the eyes of the administrators, who see men as the sole guardians of science.
But then a window of opportunity opens—a doctor she idolizes is marrying an old friend of hers in Germany. Felicity believes if she could meet this man he could change her future, but she has no money of her own to make the trip. Luckily, a mysterious young woman is willing to pay Felicity's way, so long as she's allowed to travel with Felicity disguised as her maid.
In spite of her suspicions, Felicity agrees, but once the girl's true motives are revealed, Felicity becomes part of a perilous quest that leads them from the German countryside to the promenades of Zurich to secrets lurking beneath the Atlantic.
2. Nikolai Lantsov
IN KING OF SCARS BY LEIGH BARDUGO
First introduced in SIEGE AND STORM as the privateer Sturmhond, Nikolai quickly became a fan favorite over the course of the series due to his brash and charming nature. The fact that we're getting with him as the lead of his own duology also featuring fan favorite Grisha-verse character Nina, well, we thank Sankta Alina.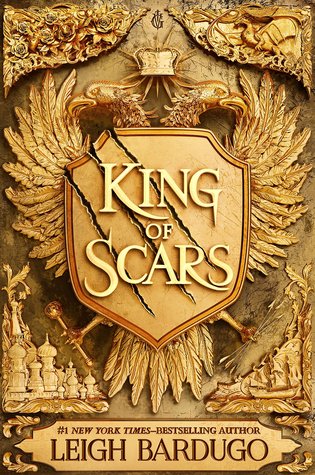 Nikolai Lantsov has always had a gift for the impossible. No one knows what he endured in his country's bloody civil war—and he intends to keep it that way. Now, as enemies gather at his weakened borders, the young king must find a way to refill Ravka's coffers, forge new alliances, and stop a rising threat to the once-great Grisha Army.
Yet with every day a dark magic within him grows stronger, threatening to destroy all he has built. With the help of a young monk and a legendary Grisha Squaller, Nikolai will journey to the places in Ravka where the deepest magic survives to vanquish the terrible legacy inside him. He will risk everything to save his country and himself. But some secrets aren't meant to stay buried—and some wounds aren't meant to heal.
3. Kenji Kishimoto
IN SHADOW ME BY TAHEREH MAFI
As the bridge between RESTORE ME and DEFY ME, we are getting a gorgeous new novella and it's from the perspective of the hilarious and loveable Kenji! Anyone whose read the SHATTER ME series knows how hilarious and loveable Kenji is, and seeing him navigate the events that occurred at the end of the last book is going to be a gift.
From RESTORE ME: It's been sixteen days since Juliette Ferrars killed the supreme commander of North America and took over as ruler of The Reestablishment on the continent.
Sixteen days since she assassinated Warner's father.
Juliette thought she'd won. She took over Sector 45 and now has Warner by her side. But she's still the girl with the ability to kill with a single touch—and with so much power in her young hands, the world is watching her every move, waiting to see what happens next.
Juliette and Warner have risked every-thing. But when tragedy strikes, they must confront the darkness that exists both around and inside them. Will they be able to control the power Juliette wields, or will it control them?
4. Zu Kimura
IN THE DARKEST LEGACY BY ALEXANDRA BRACKEN
Set five year after the events of IN THE AFTERLIGHT, Zu is all grown up and finds herself on the run once again in this spinoff. Getting to see what the world is like years after the original trilogy ended, and following an older and more mature Zu is such an exciting continuation.
Five years after the destruction of the so-called rehabilitation camps that imprisoned her and countless other Psi kids, seventeen-year-old Suzume "Zu" Kimura has assumed the role of spokesperson for the interim government, fighting for the rights of Psi kids against a growing tide of misinformation and prejudice. But when she is accused of committing a horrifying act, she is forced to go on the run once more in order to stay alive.
Determined to clear her name, Zu finds herself in an uncomfortable alliance with Roman and Priyanka, two mysterious Psi who could either help her prove her innocence or betray her before she gets the chance. But as they travel in search of safety and answers, and Zu grows closer to the people she knows she shouldn't trust, they uncover even darker things roiling beneath the veneer of the country's recovery. With her future-and the future of all Psi-on the line, Zu must use her powerful voice to fight back against forces that seek to drive the Psi into the shadows and save the friends who were once her protectors.
5. Leah Burke
IN LEAH ON THE OFFBEAT BY BECKY ALBERTALLI
SIMON VS. THE HOMO SAPIENS AGENDA is one of our all-time favorite books, so getting to spend time with our fave Creekwood High students was amazing. Especially since we got to see the world through Leah's eyes this time around!
When it comes to drumming, Leah Burke is usually on beat—but real life isn't always so rhythmic.
She's an anomaly in her friend group: the only child of a young, single mom, and her life is decidedly less privileged. She loves to draw but is too self-conscious to show it. And even though her mom knows she's bisexual, she hasn't mustered the courage to tell her friends—not even her openly gay BFF, Simon.
So Leah really doesn't know what to do when her rock-solid friend group starts to fracture in unexpected ways. With prom and college on the horizon, tensions are running high.
It's hard for Leah to strike the right note while the people she loves are fighting—especially when she realizes she might love one of them more than she ever intended.
6. Jem Carstairs
IN GHOSTS OF THE SHADOW MARKET BY CASSANDRA CLARE, MAUREEN JOHNSON, SARAH REES BRENNAN, AND ROBIN WASSERMAN
Releasing as e-novellas throughout the year before the bind up is released next year, we get to see more from some of our favorite characters in the Shadowhunter Chronicles, including (and especially) Jem Carstairs and Tessa Gray and all we have to say to that is YES PLEASE!
The Shadow Market is a meeting point for faeries, werewolves, warlocks and vampires. There the Downworlders buy and sell magical objects, make dark bargains, and whisper secrets they do not want the Nephilim to know. Through two centuries, however, there has been a frequent visitor to the Shadow Market from the City of Bones, the very heart of the Shadowhunters. As a Silent Brother, Brother Zachariah is sworn keeper of the laws and lore of the Nephilim. But once he was a Shadowhunter called Jem Carstairs, and his love, then and always, is the warlock Tessa Gray.
Follow Brother Zachariah and see, against the backdrop of the Shadow Market's dark dealings and festive celebrations, Anna Lightwood's first romance, Matthew Fairchild's great sin and Tessa Gray plunged into a world war. Valentine Morgenstern buys a soul at the Market and a young Jace Wayland's soul finds safe harbor. In the Market is hidden a lost heir and a beloved ghost, and no one can save you once you have traded away your heart. Not even Brother Zachariah…
7. Maxim Maresh
IN SHADES OF MAGIC VOL. I: THE STEEL PRINCE BY V.E. SCHWAB
Victoria Schwab absolutely slayed with the SHADES OF MAGIC series, and she left us wanting more from the world. Which is exactly what we're getting with THE STEEL PRINCE, a COMIC BOOK (!!) that takes us into the past and tells the story of King Maxim when he was a young and arrogant prince!
Delve into the thrilling, epic tale of the young and arrogant prince Maxim Maresh, long before he became the king of Red London and adoptive father to Kell, the lead of A Darker Shade of Magic!
The youthful Maresh is sent to a violent and unmanageable port city on the Blood Coast of Verose, on strict orders from his father, King Nokil Maresh, to cut his military teeth in this lawless landscape.
There, he encounters an unruly band of soldiers, a lawless landscape, and the intoxicatingly deadly presence of the newly returned pirate queen, Arisa…
---
What other characters would you want a spinoff for? Let us know in the comments!
Up next: