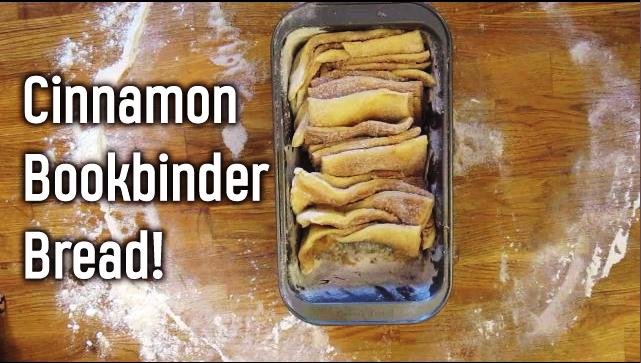 Cinnamon Bookbinder Bread is best made with one's fairy godmother, or someone with baking experience. Watch the video below and get the recipe for the signature pastry featured in STRAY by Elissa Sussman!
Cinnamon Bookbinder Bread Recipe
Click the image to view it at a larger size!
Tahlia's Cinnamon Bookbinder Bread
Ingredients
For the Dough:
2 cups plus 3/4 cup plus 2 tablespoons all-purpose flour
1/4 cup granulated sugar
2 1/4 teaspoons active dry yeast
1/2 teaspoon salt
2 large eggs, at room temperature
1/4 cup (4 tbsp) unsalted butter
1/3 cup whole milk
1/4 cup water
1 teaspoon pure vanilla extract
For the Filling:
1 cup granulated sugar
2 teaspoons ground cinnamon
2 oz unsalted butter
Make the Dough:

In a large bowl, whisk together 2 cups of flour, sugar, yeast, and salt. Set aside.
In a small bowl, whisk eggs together. Set aside.
In a small saucepan, heat milk and butter together until butter has melted, stirring constantly – do not let it boil. Remove from heat.
Add water and vanilla extract to the milk and butter mixture.
Let cool until a few minutes – mixture should be warm, but not hot.
Fold the milk mixture into the dry ingredients.
Add eggs and mix until smooth.
Add ¾ cup of flour and mix. Dough should be sticky
Place the dough in a large greased bowl and cover with saran wrap or a kitchen towel
Put bowl in a warm place (the stove works well)
Let sit until the dough has doubled in size – about one hour
Make the filling:
(Do this when the dough has doubled and you are ready to start constructing the bread)
Whisk together the sugar and cinnamon. Set aside.
Melt the butter until browned. Set aside.
Construct the loaf:
Grease and flour a 9x5x3 inch loaf pan. Set aside.
Knead the dough, adding remaining 2 tablespoons of flour.
Cover with a kitchen towel and let rest for 5 minutes.
Roll out the dough, approximately ¼ of an inch thick or 18" x18".
Brush the melted butter across the dough – a pastry brush works best.
Sprinkle the sugar and cinnamon mixture over the butter
Slice the dough vertically into six equal sized strips and stack them on top of each other.
Slice the stacks into four slices (or the approximate width of your loaf pan) and layer the dough squares in the loaf pan. It is easiest to do this one section at a time – you may need to adjust the dough as you add sections. There should be some excess room (length-wise) in the pan as the dough will rise twice more.
Preheat oven to 350 degrees.
Cover with a kitchen towel and let sit for about 45 minutes. There should still be some room in the pan – the dough will rise more in the oven.
Bake for 30 to 35 minutes until the top is a golden brown.
Let sit for a few minutes. Cinnamon Bookbinder Bread is best when still warm and should be pulled apart in chunks.