Can't decide where you want to hit the road next? Grab your friends and check out any of these spots inspired by some of our top YA stories—just be prepared for any detours along the way. Plan your perfect YA road trip with the help of these YA travelers!
1. Be Good Be Real Be Crazy
Start Location:  Florida
End Location: New Hampshire
What happens in between:
Three teenagers. One road trip. Countless detours. From the author of Even in Paradise comes a story about love, friendship, and finding yourself that is perfect for fans of Paper Towns and Mosquitoland.
When Mia first waltzed into Homer's small corner of Florida, she changed Homer's entire world. It wasn't long before he was hopelessly in love. But now Mia is moving away—and Homer and his younger brother, Einstein, are helping her drive hundreds of miles to her new home.
This might be Homer's last chance to tell Mia how he really feels. And with so many detours in front of them, anything could happen.
2. The Way Back to You
Start Location: Oregon
End Location: California/Arizona/Nevada
What happens in between:
Six months ago, Ashlyn Montiel died in a bike accident.
Her best friend Cloudy is keeping it together, at least on the outside. Cloudy's insides are a different story: tangled, confused, heartbroken.
Kyle is falling apart, and everyone can tell. Ashlyn was his girlfriend, and when she died, a part of him went with her. Maybe the only part he cares about anymore.
As the two people who loved Ashlyn best, Cloudy and Kyle should be able to lean on each other. But after a terrible mistake last year, they're barely speaking. So when Cloudy discovers that Ashlyn's organs were donated after her death and the Montiel family has been in touch with three of the recipients, she does something a little bit crazy and a lot of out character: she steals the letters and convinces Kyle to go on a winter break road trip with her, from Oregon to California to Arizona to Nevada. Maybe if they see the recipients—the people whose lives were saved by Ashlyn's death—the world will open up again. Or maybe it will be a huge mistake.
3. The Haters
Start Location: Pennsylvania
End Location: Somewhere South Of The Mason Dixon Line
What happens in between:
For Wes and his best friend, Corey, jazz camp turns out to be lame. It's pretty much all dudes talking in Jazz Voice. But then they jam with Ash, a charismatic girl with an unusual sound, and the three just click. It's three and a half hours of pure musical magic, and Ash makes a decision: They need to hit the road. Because the road, not summer camp, is where bands get good. Before Wes and Corey know it, they're in Ash's SUV heading south, and The Haters Summer of Hate Tour has begun.
Inspired by the years he spent playing bass in a band himself, The Haters is Jesse Andrews's road trip adventure about a trio of jazz-camp escapees who, against every realistic expectation, become a band.
4. Kissing in America
Start Location: New York City
0End Location: California (LA)
What happens in between:
In the two years since her father died, sixteen-year-old Eva has found comfort in reading romance novels—118 of them, to be exact—to dull the pain of her loss that's still so present. Her romantic fantasies become a reality when she meets Will, who seems to truly understand Eva's grief. Unfortunately, after Eva falls head-over-heels for him, he picks up and moves to California without any warning. Not wanting to lose the only person who has been able to pull her out of sadness—and, perhaps, her shot at real love—Eva and her best friend, Annie, concoct a plan to travel to the west coast to see Will again. As they road trip across America, Eva and Annie confront the complex truth about love.
5. Paper Towns by John Green
Start Location: Florida (Orlando suburb)
End Location: New York (Agloe)

What happens in between: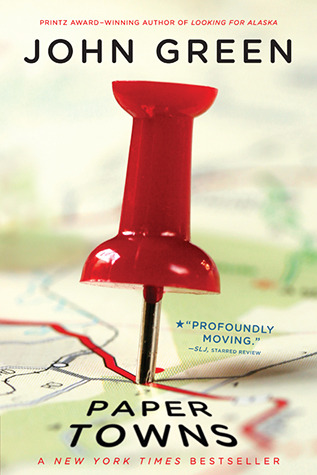 Who is the real Margo?
Quentin Jacobsen has spent a lifetime loving the magnificently adventurous Margo Roth Spiegelman from afar. So when she cracks open a window and climbs into his life—dressed like a ninja and summoning him for an ingenious campaign of revenge—he follows.
After their all-nighter ends, and a new day breaks, Q arrives at school to discover that Margo, always an enigma, has now become a mystery. But Q soon learns that there are clues—and they're for him. Urged down a disconnected path, the closer he gets, the less Q sees the girl he thought he knew. . .
6. 13 Little Blue Envelopes
Start Location: New Jersey
End Location: London/Scotland/Amsterdam/Denmark/Greece
What happens in between:
Ginny Blackstone never thought she'd spend her summer vacation backpacking across Europe. But that was before she received the first little blue envelope from Aunt Peg.
Armed with instructions for how to retrieve twelve other letters Peg wrote—twelve letters that tell Ginny where she needs to go and what she needs to do when she gets there—Ginny quickly finds herself swept away in her first real adventure. Traveling from London to Edinburgh to Amsterdam and beyond, Ginny begins to uncover stories from her aunt's past and discover who Peg really was. But the most surprising thing Ginny learns isn't about Peg . . . it's about herself.
7. Mosquitoland
Start Location: Ohio
End Location: Mississippi
What happens in between:
After the sudden collapse of her family, Mim Malone is dragged from her home in northern Ohio to the "wastelands" of Mississippi, where she lives in a medicated milieu with her dad and new stepmom. Before the dust has a chance to settle, she learns her mother is sick back in Cleveland.
So she ditches her new life and hops aboard a northbound Greyhound bus to her real home and her real mother, meeting a quirky cast of fellow travelers along the way. But when her thousand-mile journey takes a few turns she could never see coming, Mim must confront her own demons, redefining her notions of love, loyalty, and what it means to be sane.
---
If you could road trip anywhere in the world where would it be? Tell us in the comments below and don't forget to pick up your copy of Be Good Be Real Be Crazy by Chelsey Philpot and bring it along for the ride!
Up next: For more YA road trip epicness, check out this infographic! 
Save
Save
Save
Save
Save
Save